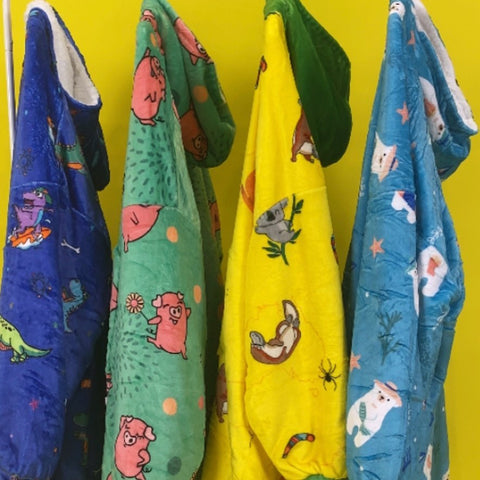 A blanket hoodie is a unique piece of apparel that combines the comfort of a blanket with the convenience of a hoodie. It's the perfect combination of warmth and style, making it an excellent choice for those who want to keep warm without compromising on their look. 
But the benefits of a blanket hoodie don't stop there. Here are a few more of the advantages of wearing a blanket hoodie.
1. Comfort
This type of hoodie is made from a soft and plush material, which will keep you warm and cozy. The inside of the hoodie is lined with a fleece material, providing an extra layer of insulation. The hoodie also features an adjustable drawstring that allows you to adjust the fit for maximum comfort. 
Additionally, the hoodie features a roomy front pocket, allowing you to keep your hands warm and store small items. 
2. Versatility
Blanket hoodies are incredibly versatile. It can be worn as a hoodie or a blanket, depending on the situation. This means you can use it for a variety of activities, from exercising to lounging. It can also be easily folded and stored away when not in use, making it a great travel companion too.
They can also be worn as a fashionable outer garment or as a cozy layer underneath a coat. They're also perfect for lounging around the house, running errands, or even wearing out at night.
3. Style
This type of hoodie can come in a variety of colours and designs, allowing you to express your own personal style. They're also easy to dress up or down, making them a great option for any occasion.
Many companies also offer a variety of customization options, such as the ability to add a logo or design to the hoodie. This allows you to create a unique piece of clothing that is sure to draw attention. 
4. Convenience
This type of hoodie is designed to be lightweight and easy to carry around. It is perfect for those cold winter days when you don't want to wear a bulky coat but still need to stay warm. The hoodie is also great for travel, as it can easily be folded up and put into a bag or suitcase. 
5. Affordability
Blanket hoodies are very affordable. They are available at most retail stores and online, so you can find one that fits your budget. They are also very durable, so you can expect them to last for many winters to come.
6. Breathability
Blanket hoodies are designed to be breathable, ensuring that you stay comfortable in any weather. The breathable fabric helps to keep you cool in the summer and warm in the winter. 
7. Durability
Blanket hoodies are made from high-quality materials, making them durable and long-lasting.
Conclusion
Wearing a blanket hoodie has several benefits. It is a great way to stay warm, cozy and comfortable. It is also a great way to express your style and personality. Blanket hoodies are lightweight and easy to carry around, making them a great option for travel and outdoor activities. They are versatile and can be worn in a variety of ways, making them suitable for any season. 
Additionally, they are affordable, making them a brilliant investment for anyone looking for an affordable, stylish and practical way to stay warm and cozy. With all these benefits, it is no wonder why blanket hoodies have become so popular.
So don't wait - visit The Woodle Store today and find the perfect hooded blanket for adults! With our wide selection of styles and sizes, you're sure to find the perfect fit for everyone. So what are you waiting for? Buy your hooded blankets today and stay warm and stylish all year round!