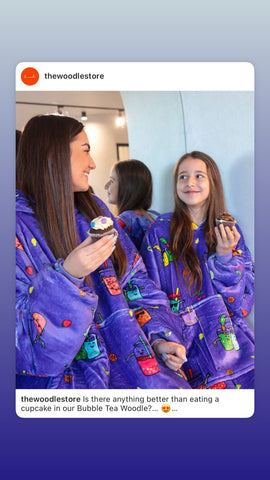 A blanket hoodie is a unique piece of apparel that combines the comfort of a blanket with the convenience of a hoodie. It's the perfect combination of warmth and style, making it an excellent choice for those who want to keep warm without compromising on their look. 
But the benefits of a blanket hoodie don't stop there. Here are a few more of the advantages of wearing a blanket hoodie.
1. Comfort
This blanket hoodie is much larger than a basic hoodie and is just as cozy and comfortable as a weighted blanket. It is ultra-soft and is made from a high-quality blend of Sherpa wool and flannel fleece, making it extremely soft and warm. It's perfect for snuggling up on the couch or taking a nap and is also great for travel.
Additionally, the hoodie features a roomy "kangaroo" front pocket, allowing you to keep your hands warm and store small items. 
2. Versatility
Blanket hoodies are incredibly versatile. It can be worn as a hoodie or a blanket, depending on the situation. This means you can use it for a variety of activities, from exercising to lounging. It can also be easily folded and stored away when not in use, making it a great travel companion too.
They can also be worn as a fashionable outer garment or as a cozy layer underneath a coat. They're also perfect for lounging around the house, running errands, or even wearing out at night.
3. Style
Hoodies are a great way to stay warm and stylish at the same time. They come in a variety of colours and patterns, so you're sure to find one that fits your style. 
Hoodies are also a great way to show off your personality. Whether you're looking for a new hoodie to add to your collection or just looking for a way to stay warm this winter, there's surely an option for everyone.
4. Convenience
This type of hoodie comes with a handy canvas drawstring bag that you can use to store it when not in use. Additionally, these hoodies are machine washable. That means you can easily keep them clean, without worrying about taking them to a dry cleaner. 
5. Affordability
Most blanket hoodies cost much less than a traditional blanket, so you don't have to worry about breaking the bank. They are available in a variety of price points, making them an accessible choice for those on a budget.
6. Durability
Blanket hoodies are made from high-quality materials, making them durable and long-lasting. The Sherpa wool material is strong and resilient, making it a great choice for those who want a hoodie that will last for years.
Conclusion
Wearing a blanket hoodie has several benefits. It is a great way to stay warm, cozy and comfortable, as well as to express your style and personality. Blanket hoodies are made from ultra-soft materials, making it ideal for all-day comfort. It is also designed to be durable and long-lasting, ensuring you get the most out of your purchase.
Additionally, they are affordable, making them a brilliant investment for anyone looking for an affordable, stylish and practical way to stay warm and cozy during the colder days. With all these benefits, it is no wonder why blanket hoodies have become so popular
So don't wait - check out The Woodle Store online today and find the perfect hooded blanket for adults and kids alike! Our hooded blankets offer the perfect combination of style and comfort, so you can stay warm and look great even during the coldest months of the year. Shop now and stay warm in style!