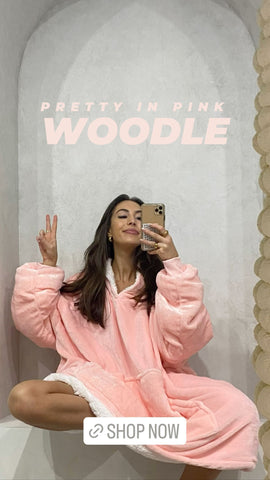 Winter season is coming, and it's time to gear up to keep ourselves warm and cozy. You may have heard about the latest fashion trend that's taking the world by storm - the blanket hoodie!
Yes, you heard that right. It's a hoodie that doubles up as a blanket and the perfect winter accessory you didn't know you needed. In this article, we'll take a closer look at what a blanket hoodie is and why you should wear it next winter season.
What is a Blanket Hoodie?
A blanket hoodie is a hybrid of a hoodie and a blanket. It's made of soft, warm, and cozy material, perfect for snuggling up on a cold winter day. The hoodie has an oversized design that allows you to wrap yourself up in it like a blanket. It comes with a large hood that can be pulled up to cover your head, providing extra warmth and comfort.
Why You Should Wear a Blanket Hoodie Next Winter Season
1. Stay Warm and Cozy
The primary reason why you should wear a blanket hoodie next winter season is that it keeps you warm and cozy. The soft and fluffy material provides insulation and traps your body heat, keeping you warm and toasty even in the coldest of temperatures. You can snuggle up on your couch or bed, wrap yourself up in your blanket hoodie, and binge-watch your favourite TV shows or movies.
2. Fashionable and Trendy
Blanket hoodies are not only functional but also fashionable. They come in a range of colours and designs, so you can choose one that suits your style. You can wear it with your favourite pair of jeans or leggings and look effortlessly chic. You can also wear it to outdoor events or picnics, and it will keep you warm and stylish at the same time.
3. Versatile
Blanket hoodies are versatile and can be used in many different ways. You can wear it as a hoodie, a blanket, or a cape. You can also use it as a travel pillow, a camping blanket, or a picnic mat. It's a multi-functional accessory that you can use all year round.
4. Perfect Gift
If you're looking for a unique and thoughtful gift for your friends or family, a blanket hoodie is a perfect choice. It's a practical and stylish gift that they can use and enjoy for years to come. You can choose from a range of colours and designs, so you can find one that suits your personality.
5. Easy to Clean
Blanket hoodies are easy to clean and maintain. Most of them are machine washable, so you can simply toss them in the washing machine and let it do the work. You don't have to worry about dry cleaning or special care instructions.
Conclusion
A blanket hoodie is an innovative garment designed to keep you warm and comfortable during the winter season. It is a lightweight, stylish and versatile piece of clothing that can be worn in various ways. The hoodie also provides extra protection from the cold and wind. If you are looking for a comfortable and stylish way to stay warm this winter, a blanket hoodie is a great option. Not only will it keep you cosy, but it will also help you make a fashion statement. So, why not invest in one for the upcoming winter season and make the most of it?
Visit The Woodle Store today and find the perfect hooded blanket for adults! With our wide selection of styles and sizes, you're sure to find the perfect fit for everyone. So what are you waiting for? Buy your hooded blankets today and stay warm and stylish all year round!