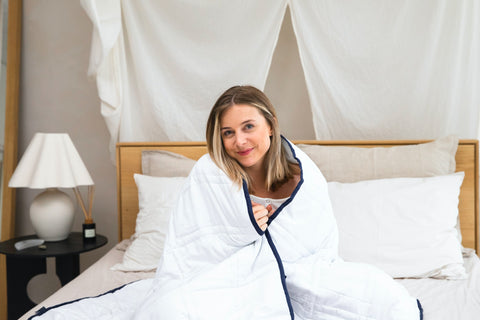 Winter can be harsh, but with a Woodle wearable blanket on hand, there's no reason to let the cold temperatures dampen your spirits. Suitable for teenagers, young women aged 22-40, mothers and grandmothers buying for their kids, the Woodle is the go-to winter wear that guarantees warmth, fun, and style throughout the season. Whether you are bracing the outdoors or simply staying in, your Woodle will ensure you're ready for any cozy adventure.
At The Woodle Store, we believe that the chilly season doesn't have to be all doom and gloom. In fact, winter is the ideal time to embrace new activities and experiences, all while wrapped up in your quirky, cheeky, and playful Woodle. With this in mind, we've compiled a list of fantastic indoor and outdoor activities to enjoy during Aussie winters, featuring the perfect balance of fun, excitement, and comfort that your Woodle offers.
In this blog article, we'll be taking you through the various activities and experiences that will inspire you to wrap yourself in your favourite wearable blanket and create joyous winter memories with friends and family. From the comfort of your living room to the chilly wonders of the great outdoors, we encourage you to gear up in your Woodle and embrace the season in style.
1: Indoor Adventures with Your Woodle Wearable Blanket
A. Woodle Movie Marathon
Turn your living room into a cozy haven with a Woodle-themed movie marathon. Choose a selection of films from different genres to ensure there's something everyone will enjoy. Whether it's binge-watching family animations, rom-coms, or action flicks, your Woodle will guarantee warmth, comfort, and plenty of laughs as you indulge in popcorn and your favourite films.
B. Woodle Game Nights
Looking for a playful way to bond with your loved ones? Host a Woodle game night! From board games and card games to video game challenges, there's no shortage of options to keep everyone entertained. And, of course, don't forget to don your Woodle, so everyone can stay cozy and enjoy the friendly competition in ultimate comfort.
2: Creative Fun with Woodle
A. Woodle DIY Fashion Show
Unleash your inner fashionista and host a Woodle DIY fashion show. Get your friends and family together to customize their Woodle wearable blankets using fabric paint, iron-on patches, or embroidery. Then, strut your stuff down the runway and let the audience vote on their favourite designs. The winner gets bragging rights and a spot in the Woodle Hall of Fame!
B. Woodle Slumber Party
Invite your friends over for a Woodle slumber party that will take you back to your childhood days. Think late-night chats, pillow fights, and pampering sessions whilst wrapped in your warm, wearable Woodle blanket. Your teenage and young adult pals will love the quirky twist on this classic sleepover staple, and your Woodle will make it a night to remember.
3: Woodle Warmth in the Great Outdoors
A. Woodle Picnics and Barbecues
Head outdoors with your Woodle and enjoy an Aussie winter picnic or barbecue surrounded by nature. Gather your mates and family, don your Woodles, and indulge in delicious food while keeping warm in your wearable blankets. With your Woodle by your side, you can create picture-perfect memories under the crisp, clear winter skies.
B. Woodle Star Gazing and Campfire Nights
Immerse yourself in the beauty of the night sky with a Woodle star-gazing adventure. Stay warm and comfortable in your wearable blanket while you explore the wonders of the cosmos. And, if you have access to a backyard or a safe outdoor area, ignite a campfire and enjoy a Woodle campfire night filled with stories, s'mores, and good company.
4: Woodle Winter Fitness and Fun
A. Woodle Yoga and Meditation
Incorporate your Woodle into your wellness routine by joining a yoga or meditation class, either online or at a local studio, while staying wrapped in your wearable blanket. Your Woodle's cozy comfort will help enhance your relaxation and mindfulness, making it the perfect accessory for your winter wellness journey.
B. Woodle-Ful Winter Walks
Get your blood pumping, stay warm, and enjoy the crisp winter air with Woodle-ful winter walks. Whether it's a leisurely stroll through a scenic park or a hike through a nearby nature reserve, the Woodle wearable blanket makes it easy to stay cozy during your outdoor exploration. Embrace the wintry beauty outside while staying wrapped up in your Woodle's warmth and style.
Conclusion
Winter is the perfect time to discover new activities, embrace cozy comforts, and have fun with friends and family, all while staying warm and stylish in your Woodle wearable blanket. With a wide range of indoor and outdoor experiences to choose from, you can enjoy winter to the fullest while showcasing your quirky and playful Woodle lifestyle.
So, as the temperature drops and snowy winds start to chill the air, gather your tribe and embark on Woodle-themed adventures that promise to add excitement, warmth, and joy to your winter days. From embracing your creativity and bonding with loved ones to staying active and enjoying the great outdoors, your Woodle will be there to accompany you every step of the way. Wrap up, stay warm, and cheers to a Woodle-ful winter!