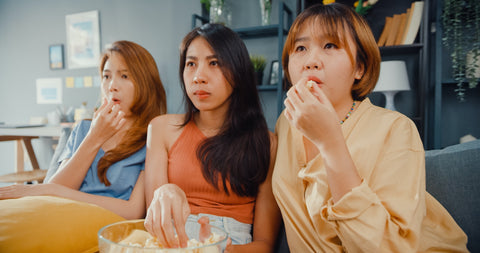 Slumber parties are cherished childhood memories, offering a unique opportunity for friends to bond and create lifelong connections. By infusing these nostalgic events with the quirky, vibrant, and irresistibly comfortable charm of Woodle wearable blankets, you open a new world of excitement and entertainment for friends and family. Designed with teenagers, women aged 22-40, and mothers or grandmothers seeking the perfect gift for their children in mind, the Woodle brings warmth, humour, and playful vibes into any slumber party. It's time to dive into the Woodle world and create a night of joy, laughter, and unforgettable memories.
Throwing a Woodle-themed slumber party takes creativity, planning, and enthusiasm, combining the cheeky charm of Woodle wearable blankets with engaging activities, delicious food, and delightful entertainment. Embrace the bold colours, unique patterns, and warm embrace of your favourite Woodle designs, weaving their presence into every moment of your event. By hosting an epic slumber party starring the Woodle, you'll create long-lasting memories for friends and loved ones, ensuring an unforgettable evening filled with joy and laughter.
Envision the scene as your guests enter the Woodle realm, slipping into their vibrant wearable blankets with broad grins and sparkling eyes. The room comes alive with chatter and anticipation, Woodle's wearable blankets adding a touch of enchantment and warmth to the atmosphere. Conversations buzz, connections strengthen, and friendships flourish as the night unfolds, a testament to the unique charm and affection shared by all.
Allow this guide to inspire you, equipping you with the knowledge and motivation needed to host a Woodle-themed slumber party that captures the hearts of your guests. Immerse yourself and your guests in the Woodle world, exploring the full potential of these quirky wearable companions. Before long, you'll discover a Woodle wearable blanket is more than just an item; it's a treasured friend, a well-loved companion, and an essential ingredient for a night of joy, laughter, and positive memories.
Preparing for Your Woodle-Themed Slumber Party
1. Choosing the Perfect Woodle Wearable Blanket for Your Theme
Consider the interests, likes, and favourite colours of your guests when selecting which Woodle wearable blanket designs to have available at your slumber party. With a range of vibrant patterns and themes, there's sure to be a Woodle design that will appeal to everyone's unique taste and style.
2. Crafting Quirky Invitations
Create bespoke invitations that incorporate the colours and patterns of your Woodle wearable blankets. Inject some cheekiness and playful humour into the wording of your invitations, setting the tone for the fun-filled event ahead.
3. Designing a Woodle-Friendly Sleepover Space
Arrange your sleepover space with comfort and Woodle-themed flair in mind. Deck the room with pillows, cushions, and blankets that complement the Woodle's colours and patterns. Ensure there's ample room for guests to spread out and snuggle up in their wearable blankets.
Woodle-Inspired Food and Drink Ideas
1. Colourful Woodle-Style Snacks
Delight your guests with a selection of delectable finger foods that represent the funky and quirky essence of Woodle wearable blankets. Think colourful candy, cupcakes with vibrant icing, and savoury treats like pinwheels and dips with an array of colourful veggies.
2. Woodle Mocktails and Refreshments
Serve beverages in a variety of colours, adding a touch of quirkiness and youthful charm to your Woodle-themed slumber party. Create fun, non-alcoholic mocktails that showcase the vibrant hues and whimsical spirit of your chosen Woodle designs.
3. Woodle Pancake Breakfast
Keep the Woodle fun going the next morning with a themed pancake breakfast. Using food colouring, create pancakes in shades that match your wearable blankets and invite guests to customise their breakfast with various toppings, ensuring a memorable finish to your event.
Woodle-Themed Activities and Games
1. Woodle Design Scavenger Hunt
Hide miniature prints or images of Woodle wearable blanket designs around your sleepover area. Encourage your guests to embark on a scavenger hunt, collecting each design to win a prize or a special recognition.
2. Woodle Wearable Blanket Fashion Show
Invite your guests to showcase their Woodle wearable blankets by participating in a playful fashion show. This lighthearted event will encourage creativity and help everyone feel more comfortable and confident in their individual Woodle styles.
3. Woodle Pillowcase Decorating
Set up a craft station for pillowcase decorating, using fabric markers and paint that will complement the colours and themes of your chosen Woodle designs. Each guest will take home a personalised pillowcase as a memento from your unforgettable Woodle-themed sleepover.
Woodle Sleepover Memories and Keepsakes
1. Woodle Polaroid Collages
Capture the magic of your Woodle-themed slumber party by snapping Polaroid pictures throughout the night. Create a collage of your favourite moments, allowing each guest to take home a keepsake that immortalises the event's joy, humour, and warmth.
2. Woodle Wearable Blanket Goodie Bags
Send your guests home with goodie bags that symbolise the Woodle spirit. Include fun and quirky items like colourful socks, mini bubbles, and temporary tattoos that showcase the unique charm of your chosen Woodle wearable blankets.
3. Sharing Woodle Sleepover Stories
Encourage your guests to share their favourite moments from the sleepover or recount tales of previous Woodle-related experiences. These stories will help solidify the bond formed between friends and create lasting memories centred around the playful nature of Woodle's wearable blankets.
Conclusion: A Woodle-Themed Slumber Party for the Memory Books
By infusing your slumber party with the whimsical and playful spirit of Woodle wearable blankets, you'll create an event filled with warmth, laughter, and unforgettable memories for all involved. The versatility and comfort of Woodle wearable blankets make them the perfect addition to any sleepover — amusement emanating from their unique designs, colours, and patterns.
Treat your friends and family to a Woodle-themed slumber party, embracing the heart-warming charm and cheeky humour that accompanies each wearable blanket in the Woodle collection. Plan a night full of engaging activities, delicious treats, and passionate storytelling, ensuring your event brings joy, laughter, and everlasting memories to everyone in attendance.
Are you ready to create an enchanting Woodle-themed slumber party? Visit The Woodle Store today and explore our range of wearable and adult hooded blankets, perfect for adding a touch of magic, colour, and comfort to your event. Dive into the Woodle world and delight your friends and family with a truly unforgettable celebration, creating memories that will last a lifetime.