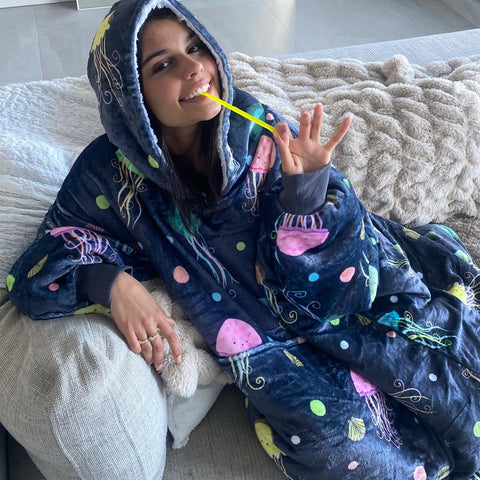 Wraps, throws, and blankets have been around for centuries and are known for their ability to provide comfort and warmth. But now, these fabrics have taken on a life of their own. From blankets that have been woven into fashionable garments to those used to decorate the home, their designs, textures, and styles have enhanced their traditional purpose. 
From Mexican ponchos to Basotho signature blankets, these fabrics have been deeply ingrained in different cultures worldwide. As a result, these blankets have become timeless items that will continue to be part of our lives for years to come. Here are three facts you might not know about wearable blankets:
1. Ponchos Are Wearable Blankets
The poncho originated in South America and was traditionally crafted from alpaca wool by indigenous people in the Andes Mountains. It is a sleeveless cloak-like item of clothing placed over the head and draped over the body. Ponchos were brought to the West, mainly by the Spanish, during their early exploration and conquest of the continent. This garment has since become a popular and timeless piece of clothing due to its versatility, warmth, and comfort.
2. Wearable Blankets Have Been Around for Centuries
The poncho has a long history, stretching back to ancient times. It began in Peru, where mummies from around 300 BC have been found wearing elaborately decorated ponchos. Its popularity then spread to other parts of South America, with each tribe or nation adding its own cultural significance to the garment. The poncho eventually reached Mexico, whose purpose remained, but the vibrant colours and designs came to represent the Mexican people. Over the centuries, the poncho has become a symbol of status and protection, as well as a reflection of the culture and values of its wearers.
The poncho is a versatile, simple garment that has been around for a long time. It began as a warm outer garment, but during the American Civil War, it was used as a raincoat and still is today. Around the world, people have used different fabrics to make outer garments similar to the poncho, but with different names. 
3. Cloaks And Capes Are Wearable Blankets
Cloaks have been an essential part of human history since the dawn of clothing. They are essentially unfastened robes, only with a hole for the head. In early European times, cloaks were a common choice for the everyday person, providing a blanket for the night and an item of clothing for the day.
Cloaks have been a timeless garment, adapting to the weather and culture they were worn. The cloak's length, material, and design changed depending on the climate and the wearer's social status. Historically, cloaks were made of a single fabric, usually circular, rectangular, or square. As time went on, cloaks and capes became more of a fashion statement, with various styles, fabrics, linings, and cuts. While the elite initially only wore them, cloaks became a staple for everyday people to stay warm in colder climates.
Conclusion
Wearable blankets are a great way to stay warm and comfortable during colder seasons. They are becoming increasingly popular as they provide a practical and stylish solution to staying warm and comfortable. While the facts about wearable blankets may not be widely known, they are certainly interesting. They are convenient, fashionable, and can even be used as a security blanket. All in all, wearable blankets are a great addition to anyone's wardrobe and can be used to keep warm and cosy in any situation.
The Woodle Store is more than just a clothing brand. We have always believed in the power of giving and hence we have made it our priority to partner with a social enterprise from the beginning of our journey. A portion of our sales is shared with Pratham, one of the largest non-governmental organisations focussed on ensuring every child is in school and learning well. 
Our very own The Woodle Store is the latest wearable blanket in Australia. It will be your go-to winter wear for this season. The designs are bright and funky and loved by kids and adults alike. So, buy one now for wearing at home, at the beach, at the game, or just to Netflix and chill!