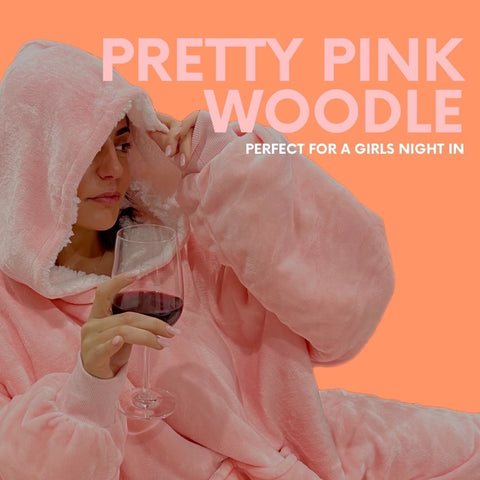 When staying warm and cozy during the colder months, hooded blankets have taken the world by storm. People of all ages have embraced this versatile and comfortable trend, and it's easy to see why. Hooded blankets look good and provide an unrivalled level of comfort and warmth that is perfect for snuggling up on the couch or venturing outside. If you haven't yet discovered the joys of wearable hoodies, read on to find out why they're a trend you'll want to get in on.
What Are Hooded Blankets?
A hooded blanket is a hybrid between a blanket and a hoodie, offering the best of both worlds. They are typically made from plush, soft materials such as fleece, sherpa, or microfiber and feature a large hood that can be pulled up over your head for added warmth. Some wearable hoodies also include pockets, allowing you to keep your hands warm and store small items like your phone or remote control. They come in various sizes, colours, and designs, meaning there's a hooded blanket for everyone.
Why Are Hooded Blankets So Popular?
1. Ultimate Comfort
One of the main reasons hooded blankets have become so popular is their unparalleled comfort. The soft, plush materials used to make these wearable hoodies are perfect for snuggling up in, and the added hood offers extra warmth and coziness. They are ideal for lounging around the house, watching TV, or reading a book, making them the ultimate comfort for those chilly days and nights.
2. Versatility
Another reason hooded blankets have become a must-have item is their versatility. They can be used as a traditional blanket or thrown over your shoulders like a cape, and the hood can be pulled up for extra warmth. This makes them perfect for various situations, from curling up on the couch to sitting outside by a campfire. They're also great for travel, as they can easily be folded up and stored in a bag or suitcase.
3. Fun Designs
Hooded blankets come in a wide range of colours and designs, making it easy to find one that suits your style. From simple, solid colours to elaborate patterns and even blankets featuring your favourite characters, there's something for everyone. Many enjoy collecting these wearable hoodies and using them to express their personalities.
How to Choose the Perfect Hooded Blanket
When selecting a hooded blanket, there are a few factors to consider to ensure you find the perfect one for you:
1. Material
Consider the material of the hooded blanket, as this will affect its warmth and comfort. Fleece, sherpa, and microfiber are popular choices, each offering different levels of softness and warmth.
2. Size
Hooded blankets come in various sizes, so choose one that comfortably fits your body. Some are designed to be more oversized, providing extra room for snuggling up, while others are more fitted.
3. Design
As mentioned earlier, countless designs are available for hooded blankets. Choose one that reflects your personality and style, or opt for a more neutral design that easily blends in with your home décor.
Conclusion
Hooded blankets are a trend here to stay, and it's easy to see why. Their ultimate comfort, versatility, and fun designs are a must-have item for anyone looking to stay warm and cozy during the colder months. Whether you're buying one for yourself or as a gift, a hooded blanket will surely be a hit. So why not join the trend and find your perfect hooded blanket today?
Looking for the perfect hooded blanket to keep you cozy and comfortable? Look no further than The Woodle Store! Our latest creation is one of the best wearable blankets available in Australia, loved by both kids and adults alike. With bright and funky designs, The Woodle is perfect for wearing at home, at the beach, at the game, or just for Netflix and chill! Get yours today!