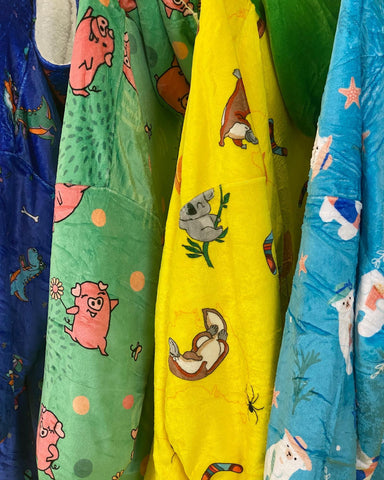 There's nothing more satisfying than arriving home on a rainy night and snuggling on the couch with a cuppa. It's the perfect time to unwind and temporarily escape your worries. This well-deserved me-time for hardworking grannies and mums also lets them recharge after a long day of chasing after those ankle-biters. 
Besides whipping a hot cuppa and tuning to your favourite Netflix show, one of the best ways to enjoy a relaxing night is to wear an oversized hoodie blanket. They're a popular must-have among folks of all ages and are best known for providing warmth and cuteness simultaneously. 
However, as you purchase one from an online shop, you may wonder how people create these cosy essentials. If you want to enjoy a well-deserved alone time after a long work or school day, we'll define hoodie blankets, how manufacturers make them, and why you need one now. 
What Are Hoodie Blankets?
A hoodie blanket combines a hoodie and a big blanket, which can fit anyone. It's like an oversized hoodie that gives you the feeling of hugging your favourite teddy bear. The best thing about this must-have is the front pouch, which is big enough to hold your essentials and warm your hands. While it can help you stay warm and cosy during the cold season, it's also light enough to be ideal for outdoor use during warmer weather. 
What Materials Do People Use to Create Them?
Manufacturers craft hoodie blankets with a breathable teddy bear flannel fleece exterior to provide maximum comfort. Many high-quality oversized hoodie blankets also have a warm Sherpa.
5 Reasons to Buy a Hoodie Blanket Today
After defining hoodie blankets and what people use to craft these rainy-day favourites, we compiled our top five reasons you should get one from your local shop today. 
1. Hoodie Blankets Are Comfortable
You deserve to feel comfortable at home, especially if you've spent most of your day working and studying hard. One of the best ways to treat yourself is to lie down wrapped in your favourite oversized hoodie blanket while the rain pours outside. 
Manufacturers create this essential with incredibly soft materials that provide a warm and comforting embrace when relaxing on the sofa, working from home, or enjoying a chilly evening. The only drawback of this product is that you may become so attached to it that you don't want to remove it! 
2. They Can Keep You Warm
It can be frustrating to feel cold quickly, especially if you've already turned on the heater and it seems nothing works. Fortunately, you can enjoy warmer nights by getting an oversized hoodie blanket for your home. Also, you can make your well-deserved me-time much more cosier by using heated slippers or investing in weighted blankets! 
3. Hoodie Blankets Are Versatile
Besides providing comfort to the wearer, you can use oversized hoodie blankets for different
purposes. They're ideal for indoor and outdoor activities due to the MicroCool™ material used on the exterior. and you can wear them anytime, whether travelling, staying home, or going to the beach!
4. They're Super Stylish
Any reputable shop will offer various fun designs for oversized hoodie blankets to fit customers' styles. From vibrant solid colours to eye-catching tie-dye patterns, there will always be something soft and cosy for everyone!
5. Hoodie Blankets' Size Can Fit All
Adults and children adore oversized hoodie blankets due to their incredibly soft texture and generous size. They also resemble a 6XL, so customers don't need to fuss about whether it will fit them. 
Snuggling up for a Lovely Night Inside
Whether you're a hardworking student or adult, you deserve to treat yourself to a lovely night inside, especially when it's raining. You can maximise comfort by buying an oversized hoodie blanket, tuning in to Netflix, and brewing a hot cuppa. 
If you're looking for an oversized hoodie blanket in Australia, check out The Woodle Store! We offer one of the best wearable blankets in the market, and our bright and funky designs make us a favourite among kids and adults. Buy one now for yourself or as a gift!