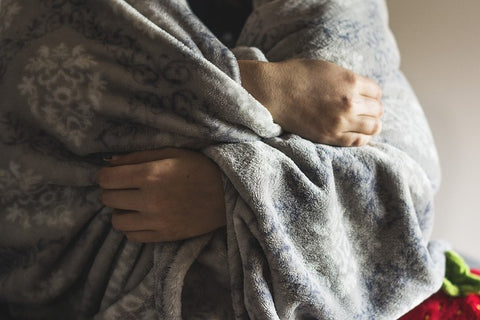 Ever wondered if there is a Swiss Army knife equivalent for fashion lovers? Prepare yourself to behold the all-rounder wearable blanket that ensures comfort, warmth, and laughter all at the same time - the Woodle! This quirky masterpiece is not just any ordinary blanket. No, the Woodle wearable blanket has managed to turn the tables and redefine the blanket game for good. So get ready to chuckle, giggle, and chortle as we reveal ten uproarious ways the Woodle makes life more fun for teenagers, young women, mothers, and grandmothers alike.
The Hilarity Begins – Comical Woodle Moments
1. The Fashion-Forward Slot
With the Woodle, you can now adopt the life of your spirit animal – the sloth – in style! This wearable blanket eliminates the need to change clothes when you spend an entire Sunday binging on your favourite series, as it offers warmth and cosiness with a dash of cheeky fashion. Embrace the sloth life; you've earned it!
2. Woodle-ing Your Way to the Front Door
Begrudgingly dragging yourself from the couch to the door at the sound of the doorbell is a thing of the past. Answering the door in your Woodle is a surefire way to make the pizza delivery guy's day or leave your neighbours giggling as they catch a glimpse of this fashionable and comfy attire.
3. Parents in Woodles – The Ultimate Embarrassment
What better way to embarrass your kids (all in good fun, of course!) than by donning a Woodle? Pick them up from school or attend their sports games in your hilarious and colourful wearable blanket and witness their red cheeks ignite with playful chagrin.
Woodle - A Comedy Star in Different Roles
1. The Woodle Workout Companion
Sport your Woodle during your morning yoga session or as you pick up those weights, providing an additional challenge to your workout routine. Just imagine the look on your gym buddies' faces when they see you flexing your muscles in this chic and laugh-inducing wearable blanket!
2. A Comical Concoction While Cooking
Woodle is here to save the day, ensuring warmth and comfort as you whip up dinner whilst also ensuring chuckles and smiles all around. Transform your kitchen into a humorous sanctuary where incredible meals blend perfectly with unforgettable memories.
3. The Hysterical Hideout
Imagine playing hide-and-seek where all participants are wearing a conspicuous Woodle! It's an excellent way to make the game more challenging, funny, and trendy. The Woodle adds extra amusement to family night, connecting generations through hearty laughter.
Woodle – The Playful Partner in Everyday Life
1. Movie Night Spoofs
The Woodle has the magical ability to turn mundane movie nights into epic impersonations of your favourite characters. Complement the movie with your Woodle by choosing one with prints that match the film's theme and turn the night into a hysterical masterpiece.
2. The Standout Sleepover
Elevate your sleepover game by hosting a Woodle-themed slumber party. Invite everyone to wear their favourite Woodle, kick back, and enjoy the playful styles that will lead to endless laughter and memories.
3. Wacky Woodle Dance Parties
Why not organise an impromptu indoor—or even better, in the backyard—dance party showcasing wacky moves in your stunning Woodle? The mix of unique wearable blanket designs and ridiculous dance steps promises an unforgettable and comedic experience for all attendees.
Woodle Is the Unrivalled Pinnacle of Cheer and Comfort
As we have discovered, the Woodle isn't just any ordinary blanket, nor is it just a fashion statement. This one-of-a-kind wearable blanket triggers a wave of hilarity, infusing a touch of joy and playfulness into the lives of teenagers, young adults, mothers, and grandmothers. A Woodle empowers us to embrace our humorous side while wrapping us in the warmth of comfort. Together, let's celebrate all the joy and laughter that the Woodle has brought into our lives and watch as it continues to make us beam, giggle, and chortle.
Can't wait to create hilarious memories with a Woodle? Visit The Woodle Store today and explore the extraordinary range of cheeky, quirky, and comfortable wearable hoodie blankets that await you. Unleash your inner comedian while staying warm and snug!Harry StrickThe