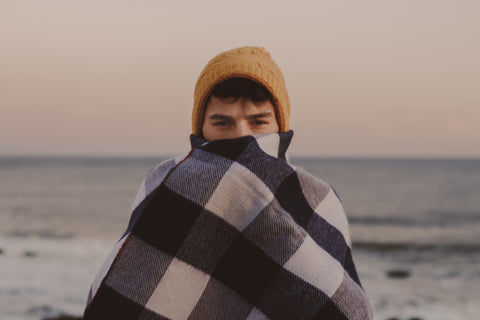 Embrace your inner DIY designer and make your Woodle wearable blanket a true expression of your personality. When it comes to style and comfort this winter, the Woodle wearable blanket is a game-changer, and there's no better feeling than rocking a one-of-a-kind design that screams authenticity. At The Woodle Store, we're all about showcasing your individuality, which is why we've put together a quirky, playful, and creative guide to inspire you to customise your Woodle and truly make it your own.
Whether you're a teenager, a young adult aged 22-40, a mother, or a grandmother looking for a fabulous and thoughtful gift for your loved ones, the Woodle is the perfect way to spark joy and warmth during the chilly season. Our guide to personalising and accessorising your Woodle will not only make your wearable blanket distinctive but also cater to your cheeky, witty, and fun-loving nature.
In this blog article, we'll delve into fantastic DIY Woodle customisation ideas that are easy, stylish, and enjoyable. From playful patches and embroidery to coordinating themes for the entire family, our DIY guide will help you create a Woodle that radiates your unique style and brings endless joy to your winter wardrobe. So let your creativity soar and join us on a journey of discovering whimsical and delightful custom design ideas, all centered around your beloved Woodle wearable blanket.
Embrace the Patch — Playfully Accessorise Your Woodle
1. Iron-On Patches
Spruce up your Woodle with an assortment of fun, quirky iron-on patches that showcase your personality and interests. From your favourite superhero or cartoon character to floral designs and motivational quotes, the options are endless. Iron-on patches are easy to apply and can transform the look of your wearable blanket in an instant, giving it a truly one-of-a-kind touch.
2. Embroidered Patches
For those who are more hands-on and enjoy crafting, try your hand at creating custom embroidered patches for your Woodle. Choose your pattern, grab some embroidery thread, and stitch your way to a unique accessory that adds a personalised touch to your cozy wearable blanket.
Custom Embroidery — A Stylish Statement for Your Woodle
1. Personalised Monograms
Add a fancy flair to your Woodle by embroidering your initials or full name. Monogramming is a timeless way to personalise clothing, and it's an elegant touch that instantly elevates your already-stylish Woodle. Choose a font and thread colour that matches your personality or contrasts brilliantly with your blanket's base colour.
2. Creative Designs and Quotes
Unlock your inner artist and embroider your Woodle with a creative design or a meaningful quote. Whether it's a delicate floral pattern or a funny pun that showcases your cheeky side, custom embroidery serves as a beautiful expression of your creativity and personal style.
Family Woodle Themes — Creative Coordination
1. Matching Family Sets
Why not have some giggles and laughs while showing off your family spirit with coordinated Woodle themes? Create matching family Woodle wearable blankets featuring the same colours, patterns, or embroidered designs for a coordinated and memorable ensemble. Perfect for family photos, game nights, or movie marathons, matching family sets add extra warmth and love to your Woodle experience.
2. Personal Touches for Each Member
For families who enjoy a spirited mix of individuality and unity, create a personalised Woodle for each family member by customising different aspects while retaining a cohesive theme. You may choose similar colours but different patterns, or add unique initials or embroidery designs for each member. Personal touches for each family member's Woodle blanket bring everyone together while celebrating individuality.
Upgrade Your Woodle — Attachable and Detachable Features
1. Added Pockets or Pouches
For those who appreciate practicality, why not upcycle your Woodle with added pockets or pouches for extra convenience? With large pockets for your TV remotes and snacks or smaller pouches for your mobile devices, upgrading your Woodle wearable blanket not only adds functionality but also makes your lounging experience even more enjoyable.
2. Detachable Hood or Sleeves
Customise your Woodle by adding a detachable hood or sleeves for extra versatility. This way, you can change up the look and feel of your Woodle depending on your mood or the weather, allowing you to enjoy ultimate comfort and style all year round.
Conclusion
Your Woodle wearable blanket is an amazing canvas for showcasing your creativity and personality, so don't be afraid to experiment and let your imagination run wild. By personalising your Woodle with playful patches, custom embroidery, or creative upgrades, you can create unique wearable art that brings joy and warmth to you and your loved ones throughout the chilly winter season.
As you create your one-of-a-kind masterpiece, remember that there are no limits when it comes to customising your wearable hoodie. Embrace your inner DIY designer, revel in the cheeky and witty nature of your Woodle, and most importantly, have fun along the way. Your bespoke creation will not only keep you cozy and warm but also be a conversation starter at family gatherings, game nights, or movie marathons. So what are you waiting for? Grab your Woodle at The Woodle Store and get inspired to showcase your individual style like never before!