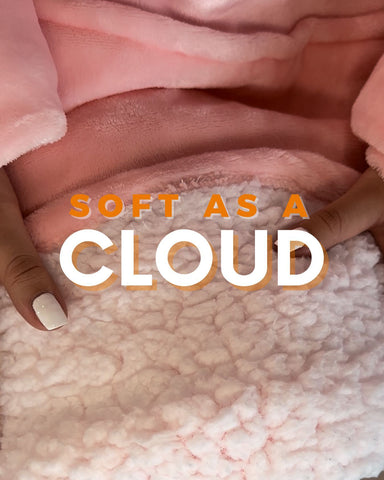 If you haven't already heard or seen the latest trend in comfort wear, you're in for a treat. The oversized blanket hoodie craze has hit the shores of Australia, and we're here to tell you all about this snuggly sensation. So, grab a cup of coffee, settle into your favourite armchair, and let's dive into the world of oversized blanket hoodies and why they've become so popular:
What Are Oversized Blanket Hoodies?
Oversized blanket hoodies, also known as wearable blankets or hoodie blankets, are essentially a fusion between a hoodie and a blanket. Blanket hoodies are oversized and one-size-fits-most, which means that they are suitable for people of all shapes and sizes. They feature large hoods, long sleeves, and a generous length that reaches well below the knees. Some designs even include pockets to keep your hands toasty warm or to store your phone or TV remote.
Design-wise, oversized blanket hoodies are designed to provide the ultimate level of comfort and warmth for those chilly days and nights. These hoodies are typically made from soft, plush materials such as Sherpa fleece, flannel or microfibre, making them the perfect addition to your loungewear collection.
Why Are They So Popular?
There are just so many reasons oversized blanket hoodies have become a huge hit today:
1. Unmatched Comfort
There's no denying that the main reason for the popularity of oversized blanket hoodies is the sheer level of comfort they provide. These wearable blankets are like being wrapped in a warm, soft hug all day long. They're perfect for snuggling up on the couch while binge-watching your favourite series, reading a book, or even working from home. Trust us when we say that once you've tried one of these on, you'll never want to wear anything else.
2. Versatility
The oversized blanket hoodie is not just limited to lounging around at home. They're also great for staying warm at outdoor events, such as sporting matches, camping trips, or even a cheeky backyard BBQ. With the added benefit of a hood, you can easily protect yourself from unexpected drizzles or chilly gusts of wind.
3. Style Factor
Though comfort is the priority, oversized blanket hoodies also come in a variety of colours and patterns, making it easy to find one that suits your personal style. From solid colours to fun prints, there's a blanket hoodie for everyone. Plus, the oversized fit adds a touch of effortless, laid-back style to your outfit.
4. Perfect for Gifting
Struggling to find a gift for that hard-to-buy-for friend or relative? An oversized blanket hoodie is a perfect solution. Not only is it a unique and thoughtful gift, but it's also something that everyone can appreciate and enjoy. With its universal appeal, you can't go wrong with gifting a blanket hoodie.
5. Embracing the Hygge Lifestyle
The concept of "hygge" has been gaining popularity in recent years, and the oversized blanket hoodie perfectly embodies this Danish idea of cosiness and comfort. Embracing hygge means finding joy in life's simple pleasures, and there's nothing more pleasurable than wrapping yourself up in a soft, warm blanket hoodie and enjoying some quality downtime.
Conclusion
Oversized blanket hoodies have become a popular wardrobe staple for those seeking the ultimate in comfort and warmth. With their versatile use, stylish designs, and alignment with the hygge lifestyle, it's no surprise that people are jumping on the bandwagon and embracing the blanket hoodie trend. So, if you haven't already, it's time to treat yourself to one of these snuggly sensations and experience the cosiness for yourself.
The Woodle Store is your go-to store for the latest and greatest wearable blankets in Australia. If you find yourself feeling cold or looking for that ultimate cosy experience, look no further than what we offer. Check out our adult-hooded blankets today and enjoy the warmest, fluffiest time of your life!