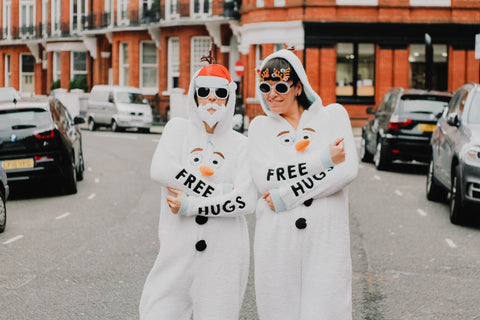 Staying cozy indoors shouldn't mean compromising on style. Enter the Woodle wearable blanket – a fun, quirky, and comfortable companion for every night, designed for everyone looking for heartwarming gifts in mind. These chic and charming wearable blankets effortlessly elevate your winter wardrobe, making indoor fashion as appealing as it is cozy.
From a girls' night in to a laid-back family gathering, the Woodle wearable blanket is the ultimate way to stay warm, stylish, and cheerful this season. Conjuring up joy, warmth, and just the right amount of cheekiness, these wearable blankets provide endless options for mixing and matching, ensuring every night spent in them becomes a vibrant and enchanting fashion experience.
Get ready to discover five fabulous fashion ideas that pair perfectly with a Woodle wearable blanket's spunky charm. Each ensemble captures the essence of Woodle style, ensuring a cozy night in that gives you the feel-good vibes and confidence you need to shine. Read on, and let the fun and fashion begin as we explore the endless possibilities that await with your Woodle wearable blanket, transforming the ordinary into extraordinary in the comforting embrace of your home.
Woodle and Loungewear: A Match Made in Heaven
1. Cute and Casual: Juxtaposing Patterns
Mix comfort, style, and Woodle charm with a simple but eye-catching lounge outfit by pairing your Woodle wearable blanket with patterned pyjama bottoms and a matching, fitted white tee. Enhance the outfit with fluffy slippers that mirror the colours and vibe of your Woodle wearable blanket, turning your usual loungewear into a delightful, fashion-forward ensemble.
2. Woodle Luxury: Satin and Velvety Warmth
Add some luxury to your cozy night in by donning a pair of sleek satin pyjama bottoms and layering them with your soft, velvety Woodle wearable blanket. The silky satin texture, paired with the warmth of the Woodle, sends a surge of style and comfort throughout the room, ensuring an evening of sheer indulgence.
Woodle-Inspired Movie Night Attire
1. The Ultimate Woodle Onesie
Embrace the fun and creativity of Woodle style by fashioning an all-in-one outfit in the form of a snug onesie to pair with your wearable blanket. The combination of a cheeky animal-print onesie and your stylish Woodle creates an ultra-comfortable getup, ideal for curling up on the couch for a movie marathon.
2. Woodle Coordinates: Tracksuits and Fun
Bring athletic flair to your movie night by sporting a coordinating tracksuit that accentuates the quirky charm of your Woodle wearable blanket. Opt for a colour palette that mirrors your Woodle blanket, ensuring a playful blend of style, harmony, and cheer as you settle in for an evening of entertainment and comfort.
Woodle Game Night Fashion
1. Creative Layering: Playful Woodle Style
Invent a delightful multi-layered look by pairing your Woodle wearable blanket with a patterned thermal top, high-waisted leggings, and fluffy statement socks. This combination not only offers optimal warmth but also showcases the playful side of your Woodle wearable blanket, adding a quirky twist that's perfect for an evening of games and laughter.
2. Woodle Chic: Oversized Jumpers and Leggings
Incorporate your Woodle wearable blanket into an effortlessly chic outfit by layering it over an oversized jumper and figure-hugging leggings. Paired with fun accessories like chunky jewelry and a cozy beanie, this ensemble showcases your personality and Woodle's unique sense of style during a lively game night at home.
Woodle Pizzazz: At-Home Dinner Party Iterations
1. Woodle Elegance: Silk and Style
Elevate your Woodle wearable blanket to dinner party status by pairing it with a sophisticated silk blouse and slim-fitting trousers. The elegance of silk garments paired with the playful charisma of your Woodle brings a touch of quirky glamour to the table – quite literally – combining warmth, high fashion, and unique charm.
2. Woodle Soiree: Knitwear and Accessories
Transform your Woodle wearable blanket into a delightful centrepiece for an at-home dinner party fashion statement. Pair your Woodle wearable blanket with a knit turtleneck sweater and wide-legged trousers, adding a statement belt and bold accessories to further enhance the look. The fusion of Woodle warmth, knitwear comfort, and eye-catching details creates an ensemble that feels almost as good as it looks, ensuring your at-home soiree is a stylish affair.
A World of Woodle Possibilities: Cozy Fashion at Its Finest
Elevating your at-home wardrobe to new heights of style, warmth, and fun has never been more effortless, thanks to the versatile and enchanting Woodle wearable blanket. There is no limit to the fashion potential awaiting you within the velvety folds of your Woodle, the perfect fusion of cozy comfort and playful charm that makes every night a fashion extravaganza to remember.
From movies and games to luxurious loungewear and dinner party attire, your Woodle wearable blanket proves itself as the ultimate partner and muse in crafting a myriad of outfits that never compromise on warmth or glamour. Embrace the joy of Woodle fashion, and let every cozy night in become a statement, an experience, and a world of possibilities.
Are you ready to unlock a world of charm, warmth, and style in your at-home wardrobe? Discover The Woodle Store's irresistible range of wearable hooded blankets today, designed to cater to a myriad of fashion tastes and desires. Bring the enchantment of a Woodle wearable blanket into your life, and turn every cozy night into an extraordinary journey through the realms of comfort and captivating fashion. Buy one now!