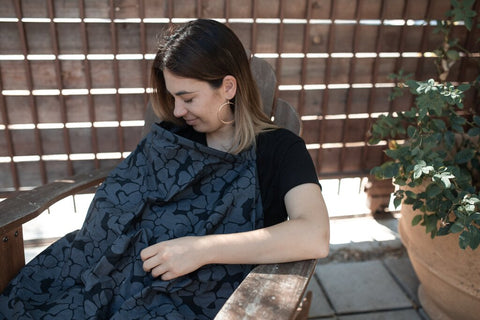 Maternity and breastfeeding are unique, challenging, and rewarding experiences that every mother cherishes. Throughout this delicate and beautiful journey, comfort and practicality remain at the forefront, making it essential to have products that cater to a mother's needs. Woodle wearable blankets emerge as the perfect accessory to support mothers during this beautiful phase of life, thanks to their luxurious materials, innovative design, and practical features.
In this article, we'll explore how the Woodle wearable blanket can positively impact the maternity and breastfeeding experience. Let's embark on a journey highlighting the incredible benefits of incorporating the Woodle wearable blanket into your maternity and breastfeeding journey. Discover how this innovative, plush wearable blanket can transform how you enjoy comfort, warmth, and practicality as you embrace the joys of motherhood.
Comfort: Enhance Your Maternity and Breastfeeding Experience with a Woodle
1. Ultra-Soft Materials for Ultimate Relaxation
The Woodle wearable blanket is crafted from premium, ultra-soft materials designed to provide ultimate relaxation and warmth for expectant and new mothers. With its plush texture and gentle feel, the Woodle wearable blanket becomes a soothing companion that enhances the comfort level of every phase of your motherhood journey.
2. Snug-Fit Design for Added Ease
The Woodle wearable blanket's snug-fit design makes it an ideal choice for nursing mothers. It stays in place without slipping or falling off, ensuring you stay warm and relaxed, whether breastfeeding or simply resting.
Practicality: Enjoy Unique Features that Cater to Breastfeeding Mothers
1. Built-In Pockets for Added Convenience
Having a myriad of responsibilities, nursing mums need all the help they can get. With its built-in pockets, the Woodle wearable blanket offers added convenience, allowing mothers to store essential items such as baby wipes, nursing pads, or their mobile phones within easy reach.
2. Added Warmth with Woodle's Hood
The built-in hood makes the Woodle wearable blanket an invaluable addition to a breastfeeding mum's wardrobe. Offering extra warmth and protection during late-night feedings, the hood eliminates the need for additional headgear or scarves, making it a handy and practical accessory for nursing mothers.
Versatility: The Woodle's Range of Uses During Maternity, Postpartum, and Breastfeeding
1. Maternity—Stay Warm and Comfortable
As your pregnancy progresses, the Woodle wearable blanket caters to your comfort needs with its premium materials and cosy design. A versatile and adjustable wardrobe addition, the Woodle can accommodate your growing bump, providing warmth while making you feel comfortable and stylish.
2. Postpartum Recovery—A Snug Embrace
During your postpartum recovery period, the comforting softness of the Woodle wearable blanket can help you relax and recover with ease. Its gentle touch and warmth provide a soothing embrace, making it the perfect companion for resting on the couch or unwinding in bed.
3. Breastfeeding—Ease and Privacy
The Woodle wearable blanket's innovative design offers privacy and convenience during breastfeeding sessions. Ensuring you stay warm, comfortable, and covered, the Woodle becomes an indispensable part of your nursing routine, allowing you to focus on your baby and foster a special bond without interruption.
Style: Embrace Your Unique Fashion Sense with Woodle's Designs
1. A Wide Array of Options for Personal Expression
The Woodle wearable blanket offers expectant and nursing mothers various colours, patterns, and designs. With a stylish Woodle, you don't have to compromise your fashion sense for comfort, allowing you to embrace your unique style throughout your maternity and breastfeeding journey.
2. Customisation for a Personal Touch
To elevate your Woodle wearable blanket experience further, consider customising the design with embroidery, patches, or personalised initials. Such customisations can make your Woodle truly unique, reflecting your style and making it a cherished accessory throughout your journey as a new mother.
Enhance Your Motherhood Journey with the Warmth, Comfort, and Style of a Woodle Wearable Blanket
As a versatile, comfortable, and stylish addition to any expectant or nursing mother's wardrobe, the Woodle wearable blanket is an indispensable companion during maternity, postpartum recovery, and breastfeeding. With its superb materials, practical features, and unique designs, the Woodle can significantly transform your motherhood experience.
Explore The Woodle Store's range of stylish and comfortable wearable blankets, catering to modern Australian mothers' unique needs and tastes. Embrace the innovative concept of the Woodle, and let it become an invaluable companion throughout your journey into motherhood. Experience the warmth, comfort, and style that only a Woodle wearable blanket can provide, redefining your maternity and breastfeeding experience.