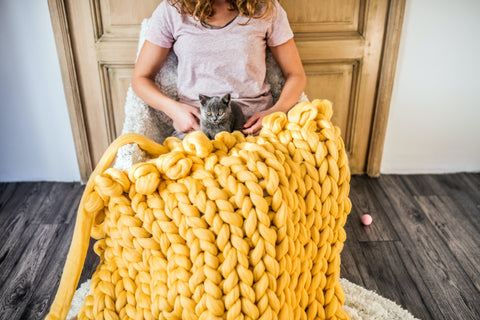 When the winter chill hits Australia, there's nothing better than snuggling up in your Woodle wearable blanket and indulging in a cozy movie night with your loved ones. Gone are the days of shivering under thin blankets or fussing over layers of clothing that don't quite keep you warm. The Woodle is here to keep you cozy, comfortable, and stylish all season long.
At The Woodle Store, we know that wearable blankets are a game-changer when it comes to maximizing your winter comforts. That's why we've handpicked our top movie picks that are perfect for snuggling up in your Woodle, whether you're a teenager, a young woman aged between 22-40, or a grandmother seeking quality time with the family. Our cheeky, quirky, and playful Woodle styling makes your movie night not only warm and inviting but also packed with personality and fun.
In this blog article, we'll take you on a journey through our ultimate cozy film guide, ensuring your Woodle movie night experience is unforgettable. From heartwarming tales to laugh-out-loud comedies, our selection is guaranteed to keep you entertained while you cuddle up in your Woodle wearable blanket. So get your popcorn ready, dim the lights, and join us in discovering the perfect film lineup to suit your Woodle-clad winter nights.
Animation Night — Cuddle Up with the Kids
1. Disney and Pixar Classics
When hosting a family Woodle movie night, you can't go wrong with Disney and Pixar classics that children and adults alike will adore. Films like The Lion King, Moana, Finding Nemo, and Inside Out are perfect crowd-pleasers everyone will love, all while your Woodle keeps you cosy and snug amidst laughter and heartwarming scenes.
2. Timeless DreamWorks Favourites
Another fantastic option for animated film lovers is DreamWorks, boasting gems such as Shrek, How to Train Your Dragon, and Madagascar franchises. Donning your Woodle with whimsical patterns and embracing cheeky prints that mirror the playful worlds created on screen makes for an immersive family experience filled with fun and style.
Comedy Night — Chuckle with Your Cheeky Woodle
1. Romantic Comedies
For a lighthearted, heartwarming evening, snuggle up in your Woodle with a romantic comedy marathons. Films like The Proposal, 50 First Dates, and Notting Hill evoke laughter and love, creating the perfect opportunity to bond with adult loved ones in style and comfort.
2. Side-splitting Slapstick Laughter
If you're after a fun and spontaneous film experience, pop on some slapstick comedy classics and let the infectious laughter take over. Movies like The Mask, Dumb and Dumber, or Home Alone will have you giggling uncontrollably while you luxuriate in your quirky Woodle.
Action and Adventure — Woodle Superhero Style
1. Marvel Cinematic Universe
For action lovers, spend an exhilarating evening wrapped in your Woodle wearable blanket while diving deep into the Marvel Cinematic Universe. From Iron Man and Captain America to Thor and Black Widow, marvel at the stunning visual effects and captivating storylines as you remain warm and stylish in your Woodle.
2. Timeless Classics Adventures
Why not embark on a journey with iconic characters such as Indiana Jones, Marty McFly, or Frodo Baggins? Experience breathtaking moments of adventure and suspense from the comforts of your living room, all while your Woodle ensures you stay toasty warm as the excitement unfolds.
Inspirational Biopics — Heartfelt Woodle Warmth
1. Based on Inspirational True Stories
Enhance your cozy film night with some inspirational biopics that tug at the heartstrings and reveal true stories of resilience and determination. Movies like Hidden Figures, A Beautiful Mind, or The Theory of Everything encourage thoughtful reflection, all while you're snuggled into your fabulously comfy Woodle.
2. Sporting Heroes and Legends
Ignite the sports-loving spirit within you with an evening of gripping stories about sporting heroes and legends. Films like Remember the Titans, Coach Carter, or Moneyball are perfect for motivating and captivating audiences, while your Woodle wearable blanket provides a layer of warmth and comfort to the exhilarating viewing experience.
Embrace Woodle Warmth on Your Memorable Cozy Movie Night
A Woodle wearable blanket movie night offers the ultimate cozy experience for family bonding or a night in with loved ones. By curating a list of heartwarming films that cater to various genres and tastes, you can create memorable moments and indulge in the unparalleled warmth of your Woodle.
Whichever film genre you choose, be it animation, comedy, action and adventure, or inspirational biopics, your Woodle blanket ensures your movie night is equally stylish, comfy, and memorable. Ensure you and your loved ones are prepared for the winter season with the must-have wearable blanket from The Woodle Store, and get ready for unforgettable cozy movie marathons unlike any other.