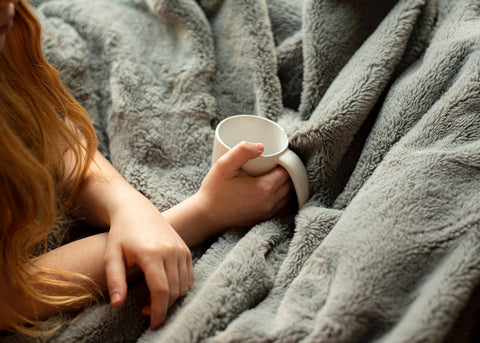 As winter approaches, the wearable blanket trend continues to rise in popularity, and the Woodle wearable blanket stands out as the ultimate choice for staying warm, cozy, and stylish throughout the season. But to enjoy the full benefits of your Woodle, it's essential to find the perfect size and fit that caters to your needs.
That's where our comprehensive guide comes into play, offering practical tips for selecting a Woodle that provides maximum comfort.
Whether you are considering the Woodle for yourself or as a heartwarming gift for a loved one, we've put together helpful advice and detailed sizing information to ensure you find the ideal fit. A Woodle that has been properly sized not only meets your comfort expectations but also enhances your winter fashion game.
So, without further ado, let's explore the ins and outs of Woodle sizes, helping you stay snug and fashionable during the colder months.
Understanding the Importance of Proper Size and Fit
Comfort is Key
To truly enjoy the warmth and coziness of your Woodle wearable blanket, it's important to select the right size that caters to your specific needs. A well-fitted Woodle ensures you remain snug and comfortable throughout the cold winter days. Additionally, a properly-sized wearable blanket ensures ease of movement while performing various activities such as lounging at home or attending outdoor events.
Enhancing Your Style
Apart from comfort, the perfect size and fit of your Woodle wearable blanket can also enhance your winter fashion game. A Woodle that fits you well will accentuate your unique style and make a statement during the colder months. By choosing the right size, you can confidently show off your fashionable Woodle while staying warm and cozy.
Woodle Size Chart – Overview and Comparison
A comprehensive understanding of the Woodle size chart ensures you can easily choose between the various sizes available. The size chart includes essential measurements, such as height and width, to help you make an informed decision. Always refer to the specific size guide provided by The Woodle Store to ensure the most accurate sizing information.
Tips for Choosing the Perfect Woodle Size
Consider Your Preferred Fit
When selecting your Woodle size, think about your desired fit. Depending on your preferences, you may want a more fitted or relaxed style. For those who prefer a more snug and fitted feel, opting for a size close to your usual clothing size is recommended. On the other hand, if an oversized and more relaxed fit is your preference, consider choosing one size larger than your regular clothing size.
Think About Layering
Another important aspect to take into account when choosing your Woodle size is the type of clothing you'll be wearing underneath. If you plan on layering your Woodle over thicker winter garments, you may want to size up to accommodate the extra bulk. However, if you'll only be wearing light layers or the Woodle directly on top of your usual attire, sticking to your regular clothing size should suffice.
Height and Arm Length
Considering your height and arm length is crucial when selecting the perfect Woodle size. Ensure the length of the wearable blanket falls at an appropriate level – not too long or short. Additionally, make sure the sleeves are long enough to keep your arms warm and comfortable but not so long as to impede your ability to use your hands comfortably.
Customising Your Woodle for a Comfortable Fit
Adjusting the Hood
One noteworthy feature of your Woodle wearable blanket is its adjustable hood. Customize the fit of the hood to suit your preferences, whether that be a more secure and snug fit around your head or a looser, more relaxed style. Experiment with different hood adjustments to find the perfect balance of comfort and warmth that suits your individual needs.
Utilising the Pockets
Your Woodle wearable blanket features convenient front pockets, perfect for keeping your hands warm or storing small belongings like your phone or a remote control. Make sure to choose a Woodle size that allows you to comfortably access and use these pockets. A well-fitting wearable blanket ensures that your pockets are easily accessible and functional, adding to the overall convenience and comfort of your Woodle.
Washing and Care Instructions for Maintaining Size and Fit
Properly caring for your Woodle wearable blanket is essential to maintain its size and fit over time. Follow the washing and care instructions provided by The Woodle Store to avoid unintentional shrinking or stretching of material. Taking care of your Woodle ensures it will remain in its original size and shape, providing maximum comfort and style throughout numerous winters.
Understanding the Woodle size guide and considering factors like comfort, style, and layering will ensure you find the perfect size and fit for your wearable blanket. By choosing a Woodle that caters to your unique needs, you'll stay warm, cozy, and fashionable throughout the winter season. Follow washing and care instructions to maintain the size and fit of your Woodle, and experience the unmatched warmth and style of this winter essential.
Keep Your Winter Style On Point with the Perfect Woodle Size and Fit
Experience Unbeatable Warmth and Style with The Woodle Store's Wearable Blanket
By following this comprehensive guide on Woodle wearable blanket sizing and fit, you have the confidence to choose the perfect woodle that caters to your preferences and needs. Embrace the ultimate comfort, warmth, and style that the Woodle has to offer, by ensuring you select a size that not only complements your personal sense of fashion but also provides unbeatable practicality during the colder months.
Looking for a wearable blanket that's both stylish and functional? Look no further than The Woodle Store! Our mission is to provide our customers with high-quality, functional wearable blankets that keep you warm and stylish all winter long. With a wide range of vibrant designs to choose from, you're sure to find the perfect Woodle wearable blanket for you. Don't let the cold weather get you down - contact us today to order your very own Woodle wearable blanket and stay cozy all winter long! Get your stylish and functional Woodle wearable blanket now, only at The Woodle Store.