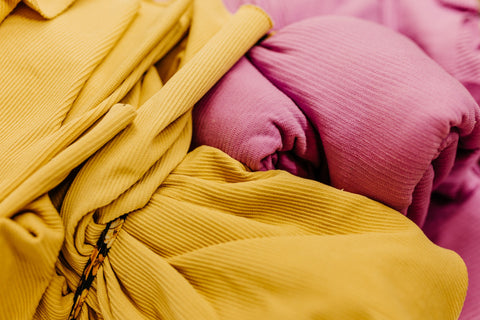 With the explosion in popularity of wearable blankets, the market has seen an influx of various products, each claiming to provide the perfect solution for winter warmth and comfort. Among the myriad options, the Woodle wearable blanket stands out as the superior choice. But what exactly sets Woodle apart from its competitors?
In this comparison article, we will delve into the unique features and characteristics of Woodle wearable blankets, highlighting the qualities that distinguish them from other products on the market. By understanding the key differences, you can make an informed decision and choose the wearable blanket that not only satisfies your warmth and comfort needs but elevates your winter experience with exceptional quality and unparalleled style. Join us as we unveil the Woodle wearable blanket's distinctive attributes, cementing its rightful position as the ultimate winter essential.
Premium Quality and Comfort
1. High-Quality Materials
One factor that sets Woodle wearable blankets apart from their competitors is the use of premium-quality materials. Woodle prioritises not only warmth and comfort but also durability, ensuring your wearable blanket withstands the test of time while maintaining its plush and soft feel.
2. Thoughtful Design
The Woodle also boasts a unique, well-thought-out design tailored to maximise convenience and functionality. Featuring well-proportioned sleeves, adjustable sizing, and a generous width, the Woodle provides a comfortable and flexible fit while retaining its warmth and coziness.
Range of Stylish Designs and Patterns
1. Bold and Beautiful
Woodle showcases a wide variety of fashionable designs and patterns, allowing you to express your personal style while staying warm during the winter months. Choose from an extensive selection of eye-catching colours and designs that elevate your winter wardrobe.
2. Customisable Options
Some of the competing wearable blanket products on the market offer a limited range of options, whereas the Woodle wearable blanket provides customisable choices. The ability to mix and match colours and patterns allows you to curate a unique, personalised look that aligns with your style preferences.
Innovation and Versatility
1. Clever Pocket Placement
Unlike some of its competitors, Woodle wearable blankets are designed with practicality in mind. With strategically placed pockets, you can comfortably carry essential items such as your phone, remote control, or even a snack, making it your trusty winter companion for everyday use.
2. Adaptable Sizing
Another advantage of Woodle wearable blankets is the versatile, one-size-fits-all design that caters to different body shapes and sizes. By offering a generous and adjustable fit, the Woodle ensures a comfortable, snug fit for everyone, making it an excellent option for group activities and gifting.
Extended Benefits and Practicality
1. Ideal for Indoor and Outdoor use
Woodle wearable blankets easily transition from indoor to outdoor settings, offering unparalleled versatility. Whether you're spending a cozy night indoors or stepping out to run errands, the Woodle wearable blanket protects you from the cold, providing warmth and comfort regardless of your activity or environment.
2. Improved Mobility
One of the challenges of staying warm during winter is maintaining mobility and flexibility while bundled up in layers of clothing. The Woodle wearable blanket addresses this issue, offering excellent body coverage without restricting your movement, ensuring warmth and comfort without compromising your ability to perform everyday tasks.
Eco-Friendly and Energy Efficient
1. Reduced Heating Dependency
An often-overlooked advantage of the Woodle wearable blanket is its potential to reduce energy consumption during the winter months. By providing direct, personal warmth, you can lower your reliance on home heating systems, ultimately reducing your carbon footprint and energy expenses.
2. Sustainable Materials
Woodle also strives to incorporate sustainable materials wherever possible in its products, demonstrating an ongoing commitment to ethical and eco-friendly practices, which sets them apart from some of the competing wearable blanket brands.
In a market saturated with wearable blanket options, it's essential to understand what distinguishes the Woodle wearable blanket from the rest. As we have explored in this article, the Woodle's exceptional characteristics, including premium-quality materials, innovative design, style variety, versatility, and extended practical benefits, showcase it as a cut above the competition.
With a Woodle wearable blanket, not only can you enjoy incredible warmth and comfort during the winter months, but you can also take advantage of the numerous benefits it offers. From enhancing your winter wardrobe to reducing energy consumption and promoting eco-friendliness, the Woodle wearable blanket demonstrates why it's the superior choice for those wanting to invest in a truly exceptional product. Don't settle for less—choose Woodle and elevate your winter experience with a wearable blanket that ticks all the boxes.
Embrace the Woodle Difference for Your Ultimate Winter Essential
The Woodle wearable blanket has clearly established its superiority over competing products, offering a perfect blend of warmth, comfort, style, and innovation that stands out in the market. Now that you have a thorough understanding of what sets the Woodle apart, it's time to make an informed decision and invest in the wearable blanket that ticks all the boxes.
At The Woodle Store, we pride ourselves on delivering exceptional quality wearable blankets that cater to your individual needs and style preferences. Browse our exclusive range of vibrant designs, colours, and patterns, and elevate your winter wardrobe with the wearable blanket that surpasses all others. Don't let the cold weather compromise your comfort and fashion—choose the Woodle wearable hooded blanket, the unparalleled winter essential that revolutionises comfort and warmth. Visit The Woodle Store today to discover your ideal Woodle, and experience the difference for yourself.